Production Dramaturg, Alissa Klusky, sat down with Co-Directors Kevin McAllister and Jason Loewith to chat about their directing dynamic, shepherding new work through development, and their thoughts about the world premiere of The Joy that Carries You at Olney Theatre Center. Read their conversation below!
Alissa Klusky: Hello friends!
Jason Loewith: Hi Alissa!
AK: Thanks so much for taking some time with me today to chat about our world-premiere of The Joy that Carries You.
Kevin McAllister: Let's do it.
AK: So, Jason and Kevin, this is your first time co-directing together. Tell me about partnering up for this project, what led you to decide to hop on this together? 
JL: When we first started working on this with the playwrights, Awa and Dani, we immediately agreed on the right director. Paige Hernandez. She directed The Royale for us, and she has a background in developing new work and comes from the dance world. And at the time that we were talking about it, there was a ghost presence who choreographically moved through the piece. So, Paige made a ton of sense. By the time we got to our second workshop in 2021, the playwrights decided to remove the ghost presence and Paige was appointed Associate Artistic Director of Everyman Theater in Baltimore and had to step away from the project. Suddenly, we needed a new director for the project! Kevin had recently joined our staff and I had been talking to him about finding the right project for him to direct here as an Artistic Director, and suddenly we realized that… Alright, here's a story about a Black family and a White Jewish family and we realized that the two of us could bring our cultural knowledge and background to the piece that Awa and Dani had been exploring. It was suddenly like: "Wait, this is a perfect idea! Why don't we just do it?" And additionally, we both had close artistic relationships with the playwrights so they were able to put that trust in us easily.
KM: Initially when I was approached about the project and when I first read it—musicals are my heart and soul, so this was a welcome but hard turn to the left! [laughs] But, once I got invested into the story and what it was, the cultural relationships and cultural contaminations, the idea of what it is to be accepted, I think that just rings so true to where we are right now. So, happy to be here and happy to work with Jason! We're both learning each other's love languages and how we work in the room, but it's been nothing but positive so far. 
AK: So, let's talk about the story. We've touched on it a little so far, the play follows Shiri and Alaia navigating their first year together as a couple and the radically different ways each of them, one Black, one Jewish, experiences the world. Talk to me about why this play now? Why at Olney?
KM: I think we are in a time right now where it's really interesting to be who you are. Where it's really exciting and the world is opening up to accepting new ways of looking at individuals. And I think this play is a great way to further that cause. The idea of acceptance not only within one's self, but also within a family, within your community, culture, or religion. I think because we are submerged in the idea of politics and differences and how we move and breathe through space as of late, this piece brings all of that to one space and one time. I think it's interesting for people from all walks of life to come together and see that. Especially at a place like Olney Theatre Center, where we're reevaluating how we are affecting the cultural landscape and what pieces and productions we can put on that further narrate the idea of who we are. I am that, I am this, and I may be made of things that you don't understand, but it's okay to like me; it's okay to love me; it's okay to buy a ticket to see me. The importance of this piece is that seeing people for who they are is not as easy as it always sounds. And what do you do when the gates are open? What do you do when you are exposed to the things you don't understand, to the languages you can't read? And how do we as a people, as a country, and as a world collectively use all of those things to make us better and affect the person who is next to us in a better way? All that to say… all of that is in this show! [laughs] It's funny, it's heartwarming, it's touching, it's infuriating, and it's great theater.
JL: Everything Kevin said times two! For me, I read new plays that try to speak to contemporary culture and sometimes they leave out the heart. They lead with the mind and they don't lead with relationships and love. That's something that I adore about this play. It trains a very keen eye on issues of difference, things that are completely current in our culture, but it doesn't wear that on its sleeve. It wears a very simple relationship between two women, a love story. It's about a mother and a daughter. It's about a sibling relationship. It's about a mother and a father. It's about things that lead with the heart, and that's how you begin a conversation with an audience and then the rest follows from there.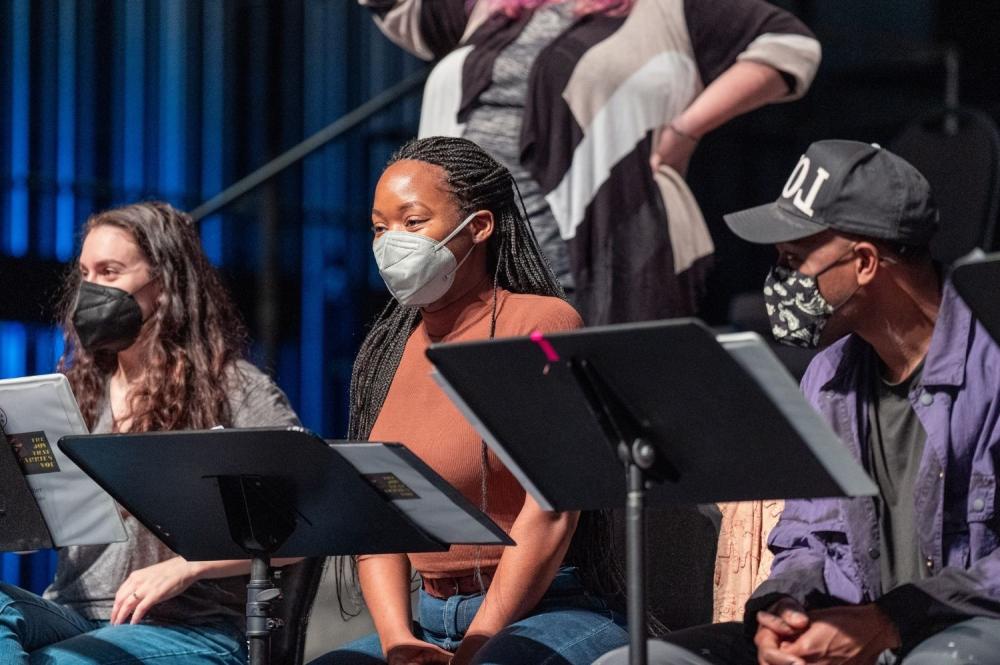 AK: Totally. One thing that we haven't touched on yet is that the driving force in this play is actually within our main character Alaia's mind, through her poetry. Can you talk about how the poetic landscape of this play functions and serves the story?
JL: I think the play is a beautiful mashup of a very familiar form—you know, it starts with a Thanksgiving dinner, it's a family play—but from the very beginning you realize that we're going to tell this very traditional story in an unusual way. And that's by placing the entire story, in some sense, in Alaia's mind. Using Spoken Word, which is interwoven throughout the traditional narrative, really does set the story apart. You can go anywhere and see a kitchen-sink, realistic play, but that's not gonna change the conversation. You sort of get lulled into this very narrative world, and all of a sudden you get broken out when Alaia starts speaking this beautiful verse. It's through the spoken word that this character can navigate the world around her. 
KM: Exactly and I think there's also something exciting about the Spoken Word concept being used in theater. I think there's something interesting about the fact that we may be able to guess certain events that occur in the play, but how we get there is completely thrown off kilter when you introduce Spoken Word. The internal comes to life on stage. It's interesting seeing something like the original concept for the piece Guess Who's Coming to Dinner meeting a concept like For Colored Girls… and trying to breach those two completely different styles. We're finding they share so many similarities.
JL: On a greater institutional level, Kevin joined the staff of Olney to broaden our disciplinary experimentation and adventurousness. Olney Theatre has been a home of traditional narrative for a very long time and we've begun to broaden our perspective on that. Kevin came aboard to bring Cabaret, Spoken Word, Drag, Jazz, and all kinds of forms that our audience is not accustomed to. So how great that he is a part of this play that melds traditional theater language with Spoken Word. And in fact, we have a poetry slam coming up in a couple of weeks! 
AK: Because this is a world-premiere and because of the nature of where our playwrights are at work in their writing process - there are a lot of changes being made as we start to put this work on its feet. Can you each speak to your philosophy when nurturing new work that is shifting and changing? 
KM: I think the strongest thing is to figure out what story the writers want to tell first and then to work to not let the outliers affect that goal. It's very easy to get in the room and get affected by thoughts and ideas and everyone's investments in the story. Secondly, once you figure out the end goal and what you want to accomplish, figuring out if there is a clear way to get that story told. What do we do to remove the unnecessary and what do we define as the unnecessary? Who ultimately defines what that is bounces around from directors to playwrights to dramaturgs and sometimes you have to trust that the actors know their character's arc better than anyone else in the room. Right now, we're still figuring out what the ingredients are to make this cake. Every day we come in and discover we've added too much of this, we need more of that, and every day we're able to come in inspired to make the play better than it was the day before. 
JL: Agreed. I think already we've done a really good job of making everyone invested in the mission of helping these two playwrights tell the story that they want to tell and that their play wants to tell. Everyone is invested in that and has a voice, so that opens the door to contributions from every corner of the room that are often inspired. And that provides a safe space for Awa and Dani to try things out, and not feel bad if they don't work! Everyone is pushing toward the same direction: how do we help the playwrights tell the story that they want to tell?
AK: Alright, one final question. Who should come to see this play and why? 
KM: I think honestly anyone who has a love of theater should come to see this play. Anyone who loves new works should see this play. Anyone who is tired of the same-old same-old should see this play. Anyone who is over 150 should come and see this play. Anyone who is under 150 should come to see this play. Anyone who has a connection to or lacks a connection to a higher power should come to see this play. Anyone who loves poetry should come to see this play. Anyone who hates poetry should see this play. This piece is written to tap into anyone at any given time, if the theater is doing its job, you're going to find a way to tap into the story.
JL: I think that anybody who likes a good family story should see this play! Whether it's that you like watching Modern Family on TV or you like plays about families, you're going to be drawn into this story. If you are a person who is frustrated by the division you feel when you open the newspaper, the division that exists within your community, within your country, and even within yourself. I think you're going to find ways in this play of thinking about those divisions in a productive way. I hope.
KM: I know!
AK: What a perfect note to end on. Thank you both so much