This summer at Olney Theatre Center was festive for multiple reasons. We were able to gather around the arts after 16 months without live performance. We missed shared experiences and being around other human beings who weren't in our "pod". Being outdoors gave us a safer way to reunite! 
The debut of Olney Outdoors, with 50 concerts, cabarets and other performances, was a resounding success. Complementing all the performances on the Root Family Stage, we created four distinct opportunities for the community to create and experience visual arts on our campus around one theme: the return of the arts after a long time away.
First, during Just Arts: A Celebration of Arts and Activism, we commissioned local muralist and activist Lusmerlin Lantigua to facilitate the creation of a community artwork and express what "coming together through the arts" meant to the attendees.
About Lusmerlin Lantigua
Originally from the Dominican Republic, Lusmerlin is an artist, writer and chemical engineer. These different disciplines transfer their characteristics to her visual work: technical rigor, liveliness and symbolism. She approaches color and linework in an intuitive fashion, in predominantly abstract style. When a subject matter is present in the work, it typically derives from quotidian elements and first-hand experiences, expressed through pastel, ink, oil, or acrylic. Commissioned work includes book covers, private and public murals, and artwork across different media. Lusmerlin's community involvement includes pro-bono art classes for minority children and motivational talks at community colleges and non-profit events.
A Community Mural by OTC Patrons
We expanded community creativity every Wednesday night during Olney Outdoors, as our patrons tried their hands at spray painting the storage containers outside our costume shop, making a second participatory community mural about the arts' return. Not only did we beautify our campus, we gave our community an opportunity to leave a permanent mark on our campus.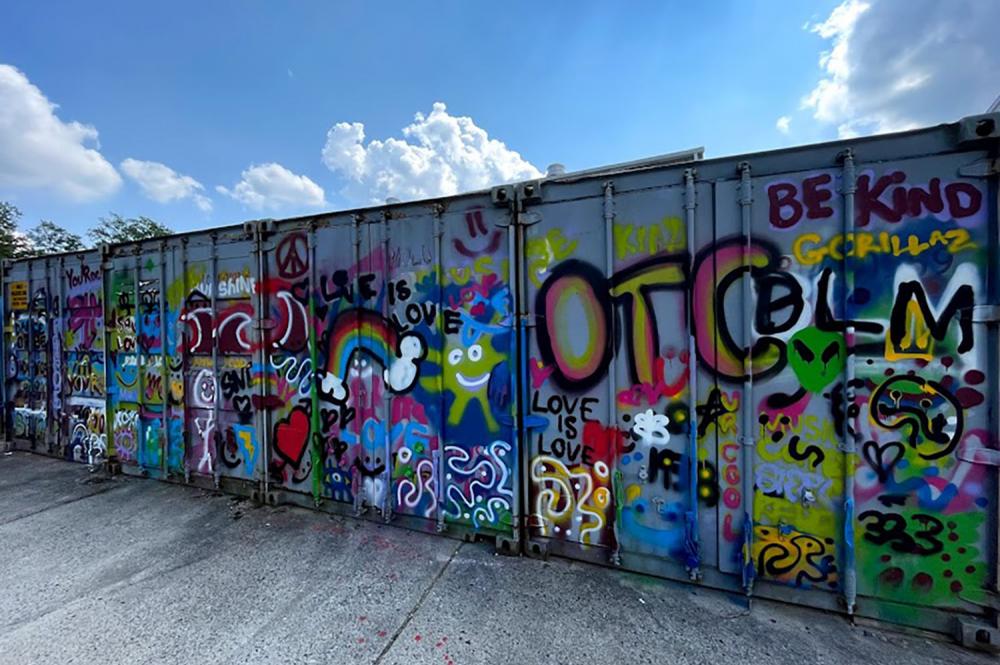 Kolams at SummerFest
Less permanent but just as beautiful, Kolams are a traditional Indian chalk art designed to welcome people to the home. Indian women often begin their day and sometimes also end it by drawing Kolams on the ground just outside the front door of their house. These repeating patterns have been passed down generation to generation for centuries. Like Native American sand paintings or Buddhist mandalas, the Kolams are part of the cycle of creation and destruction. This eco-friendly art form is drawn freehand using powdered rice or rock to create beautiful patterns of dots and lines that symbolize the essence of the cosmos. 
At our Labor Day open house, SummerFest patrons joined Shanthi Chandrasekar and her students to create Kolams that welcome our community to gather for the arts.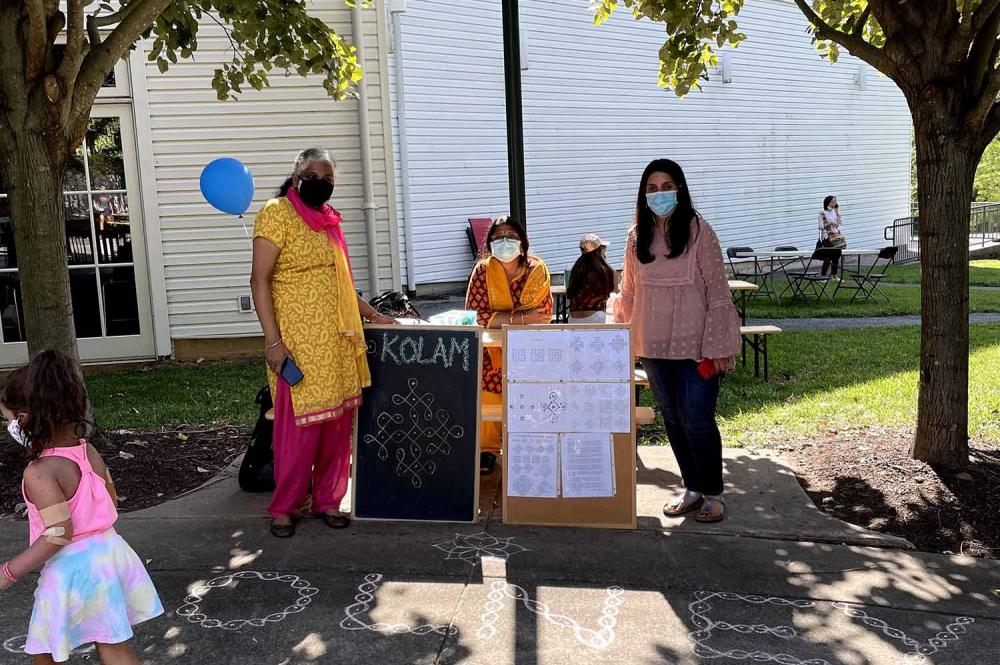 Public Art at Olney
Finally, the Arts and Humanities Council of Montgomery County (AHCMC) celebrated the County's cultural reopening with a call for public art, matching muralists to local arts organizations. Using the hashtag #artshappenshere, AHCMC's program forges a symbiotic relationship between disciplines. OTC selected a design by muralist Arlette Jassel, which has been installed on the wall of the scene shop along the walkway to the newly renovated Mulitz-Gudelsky Theatre Lab from the back parking lot. Do take a moment to check it out next time you are on our campus; you might soon have a chance to purchase items in our gift shop with Arlette's image!
About Arlette Jassel
Lifelong artist, BFA painting Hunter college NYC, MAT art education University of Chicago, member Washington Women's Arts Center, painter, sculptor, storyteller. She makes narrative art of issues that interest her. These include politics, science and the psychology of personal relations. She likes to use paint on canvas and paper, and on wood.
Come September, as we again start to welcome our patrons indoors we look forward to more opportunities to create art together be it on stage or on canvas.