It's the top of the show. Santa comes on stage to read a story, but before he begins, he takes out his cell phone and reminds everyone to silence theirs. A child from the audience shouts, "It's still on!" No big deal. Santa smiles then begins his story of Buddy, the Elf. Buddy jumps out and sings about Christmastown. Some kids dance or bounce up and down in their seats. This might be unusual for a regular theatre-going crowd, but for the sensory-friendly performance of Elf the Musical, it's totally normal.
In an effort to make our theatre more accessible and inclusive to a neurodiverse audience, Olney Theatre Center hosted its first sensory-friendly performance of our musical Annie last year. One member of staff who was instrumental in pulling it off was Weldon Brown, our Director of Sales, and connoisseur of customer service, as he's worked at OTC for over twenty years. Weldon really wanted to ensure we met the needs of our audience members who may be experiencing live theatre for the very first time.
To that end, there were a few things we needed to adjust from our performances for the general public. The house lights stay up the whole time. Any loud sound effects during the show are eliminated or toned down. We designate a quiet room in the lobby with low lighting just in case anyone needs a break. Families are spaced out with extra seats on either side. We also send ahead a guide to OTC, detailing where you should go and what to expect.
Last, but certainly not least, everybody understands. Do you need to do a puzzle on a cell phone while watching the show? No problem. Nobody bats an eye if you vocalize your excitement in the middle of a musical number. With our sensory-friendly performance of Annie, we just wanted to give the families, who typically might not normally be able to go to the theatre, a positive experience. We were so glad to hear we did, and we wanted to do it again.
With our sensory-friendly performance of Elf the Musical, we wanted to do more. This year we had a craft station available in the lobby before, during, and after the show, with tactile materials for decorating your very own snowperson. And there's more to come! We are already planning to do a sensory-friendly performance for our upcoming production of Roald Dahl's Matilda the Musical. In turn, the Saturday morning performances of our Theater for Young Audiences series (Magic School Bus, Junie B. Jones, and Madeline and the Bad Hat) will be sensory-friendly. Sensory-friendly performances are becoming more common at regional theatres in our area (like Ford's, The Kennedy Center and Adventure Theatre) around the country, and even on Broadway where The Lion King, Frozen, My Fair Lady and others offer select performances during the year.
"My favorite thing is hearing [the audience] afterwards," says Weldon. "They just have to say how great it was."
I was so excited to attend my first sensory-friendly performance as an OTC staff member on Sunday night. It was quite possibly the best audience I've ever experienced at OTC. One young man came up to me after the show. He asked me if I worked here, and then said, "I'll remember this for the rest of my life."
I will, too.
Here's a picture of one of our staff members with her son at the sensory-friendly performance of Elf the Musical.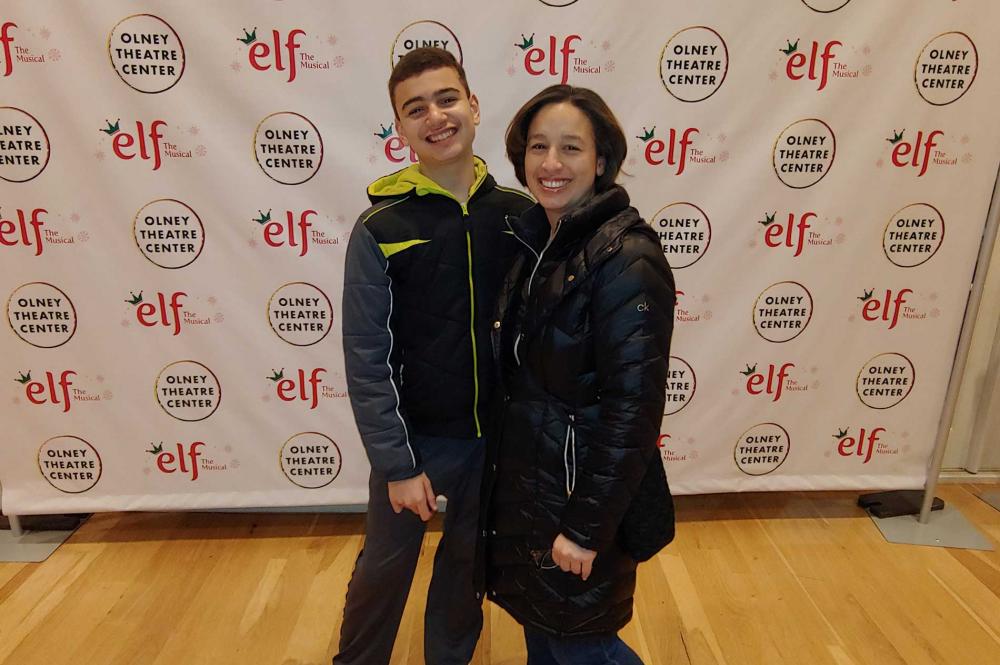 "Big thank you to all who made the Elf Sensory Friendly performance yesterday a big success! So great to give people of all abilities the opportunity to enjoy live theatre! One of those happy patrons yesterday was my son, and he really enjoyed the show…Very proud to be part of a theatre that strives for inclusion and provides entertainment opportunities to ALL!" -Chyeslan Buso, Director of Finance