If last night's Game of Thrones episode wasn't enough for you, and you're craving more drama from the time period that author George R. R. Martin said partially inspired the GoT series, then you should head to opening weekend of Mary Stuart. Don't worry, no spoilers. This Saturday, Jason Loewith's original adaptation of the 1800 Friedrich Schiller play opens in the Mulitz-Gudelsky Theatre Lab with a fierce cast.
A couple weeks ago on the blog, we introduced Elizabeth I, one of the two queens at the center of this story. This week, we are introducing her rival queen and first cousin once removed, Mary Stuart (better known as Mary, Queen of Scots). Here is some historical context into the early years of Mary's life, leading up to her first marriage to the dauphin of France in 1558 -- coincidentally, the same year Elizabeth I ascended the English throne and the trouble between Mary and Elizabeth escalated.
Mary is born to James V of Scotland and Mary of Guise.
Mary Stuart was born on December 8, 1542, the only legitimate heir of King James V of Scotland and Mary of Guise. She was born in Linlithgow Palace near Edinburgh during a frigid winter. It was a turning point in history. Two weeks prior to her birth, tensions between Scotland and England once again flared up when James V's forces were defeated by Henry VIII's at the battle of Solway Moss. Henry VIII took many captives from this battle and later tried to bargain with them to arrange a marriage between his son and Mary Queen of Scots. For over five generations, Scotland and England had been navigating a period of hostility; around 1290, Edward I tried to claim feudal overlordship of Scotland and annex the country. Scotland defended its independence, seeking help from France. At the time of Mary's birth, border conflicts were still frequent but full on warfare would have been disastrous for Scotland, whose military, population, and wealth paled in comparison to England's.
Mary was named after her mother and after the Virgin Mary; Mary Stuart was born on the day the Catholic Church celebrates the Virgin's birth.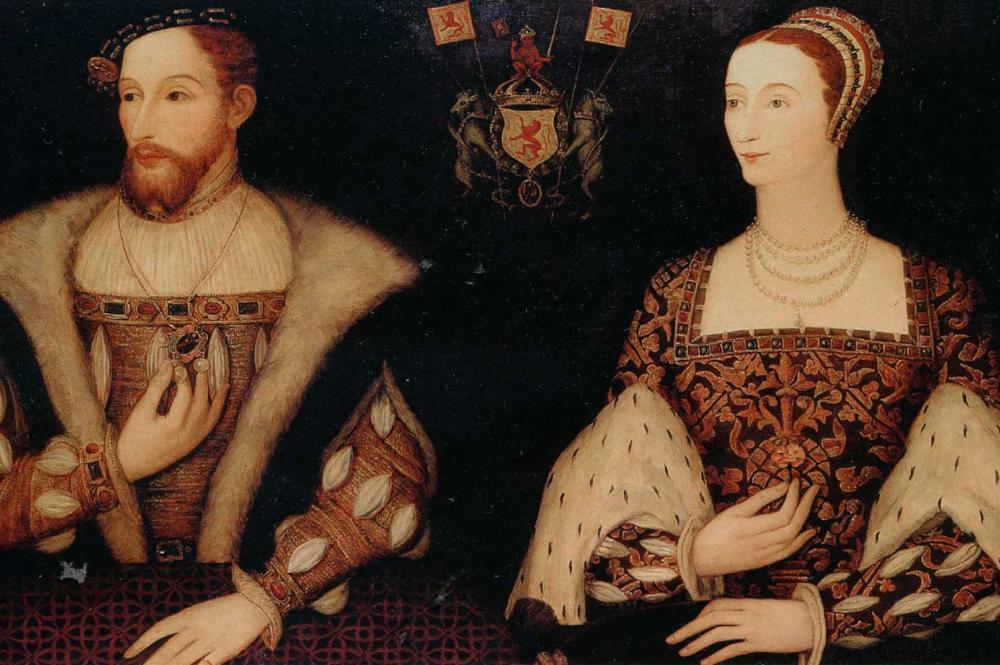 Mary becomes Queen at 6 days old.
On December 14, 1542, just six days after Mary's birth, James V died at age thirty. He had suffered numerous illnesses and a hunting accident that weakened his immune system. It is believed that his final fatal illness was dysentery contracted from contaminated water.
Her father's death made Mary an infant queen. Because Mary's grandmother was a sister of Henry VIII, he immediately began making attempts to wed Mary to his son Edward in order to forge an alliance. Upon James' death, England and France began calculated efforts to assert a hegemony over Scotland. Mary became a pawn, with multiple plots seeking to marry her into the French or English noble family to seal a diplomatic alliance. Mary of Guise was an astute politician whose family had risen to prominence through a series of marriages in the French court. She took it upon herself to protect Scotland and France's alliance and ensure that Mary Stuart would not become entangled with the English royal family.
Henry VIII had a dynastic plan to rule the entirety of the British Isles. To do so, he wanted to build a pro-English faction in Scotland. He viewed Scotland as a satellite of England, and a long desired jewel in the English crown. He made plans with his closest ally, Charles V, King of Spain and the Holy Roman Emperor, to declare war on France. Spain and England prepared to partition France in the event of a victory.
Henry released the Scottish captives from the battle of Solway and invited them to admire the recently completed palace at Hampton Court. Before allowing their departure from England, he made them promise to support his dynastic plan. They signed documents pledging to send Mary to England until she could marry Prince Edward, his son (age 5) by Jane Seymour. Mary of Guise initially pretended to ally with England and Henry's plan. She then moved Mary from Linlithgow (a caste that was easily besieged) to a safer castle, Stirling, at the top of a steep rock and near the sea, with a quick escape route nearby to France. Mary was again moved to be raised in France in the court of Henry II and Catherine de Medici.
Growing up in the French Court and Marriage to Francis II of France
Mary of Guise helped solidify plans for Mary's betrothal to her cousin, the Dauphin of France. With her marriage arrangement in place, at age 5, Mary was sent to be raised in the court of France, where she would remain for the next thirteen years. Mary had a happy and promising childhood. She was well taken care of, educated, and in general, wanted for very little. She learned to play multiple instruments and spoke French, Italian, Latin, Spanish, Greek and Scots. She was also adept in prose, poetry, needlework, and horsemanship. In 1558, as planned, she married, Francis II of France, the eldest son of Henry II and Catherine de Medici. Francis and Mary were very close, raised together almost as siblings. At the time of their marriage, Francis was fourteen and in relatively poor health, so it is believed that their marriage might never have been consummated.
That same year, in 1558, Mary I (Bloody Mary) died and Elizabeth I ascended the throne of England. Through the Tudor line, many considered Mary Stuart to be next in line for the throne. She was the great granddaughter of Henry VII, but Henry VIII's marriages and order of succession had complicated matters. Catholics, who did not recognize the marriage between Henry VIII and Anne Boleyn, saw Elizabeth as a bastard child, and therefore undeserving of the crown.