Alissa Klusky, Dramaturgy Apprentice, sits down with Rowan Ethridge, the Lighting and Electrics Apprentice at Olney Theatre Center to talk about their journey as a painter and lighting designer. Read the conversation below.
Electrics and Lighting Apprentice, Rowan Ethridge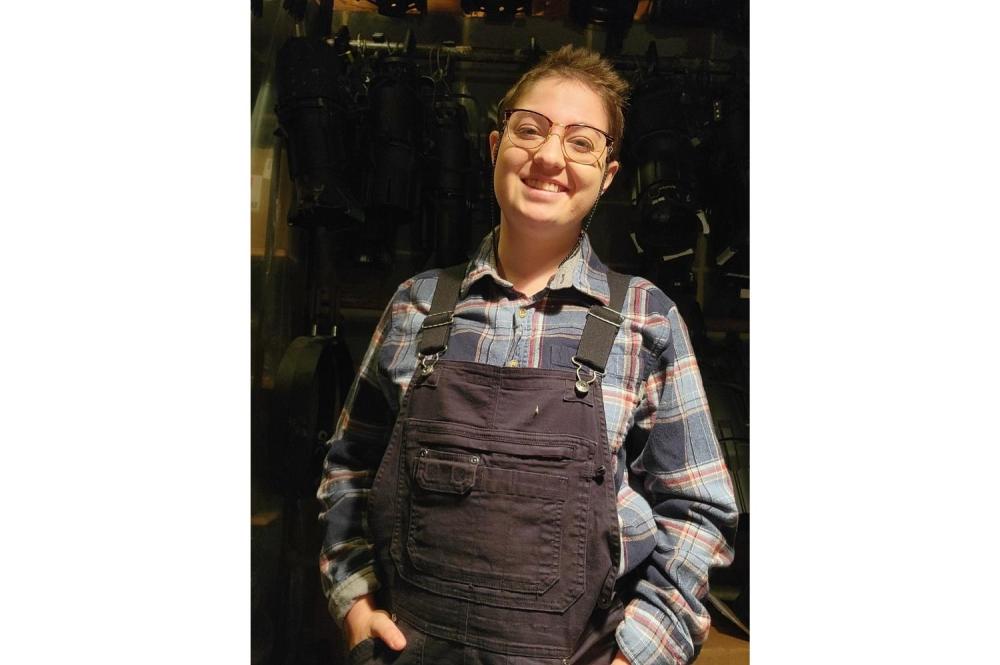 Alissa Klusky: Hi there! Thanks so much for sitting down with me to chat about your artistic career and how you ended up making art here at Olney Theatre! To start off, can you introduce yourself and also include how you describe yourself as an artist?
Rowan Ethridge: Of course, hi! I am Rowan Ethridge, my pronouns are they/them/theirs. I am the Electrics and Lighting Apprentice here at Olney Theatre Center. I have a love for painting and that really translates into love for light because so much of what I strive to create as an artist is based on mood. That's really important to me and. My art pieces and my lighting design are tied together through light and color. I actually initially started off as a performer doing community theater and that lead me into getting roped into helping out with set painting. I ended up really loving that and I sort of "studied" under Jane Wengerd of Second Star Productions in Annapolis for a year. Set paintings are a really unique way to paint because you're creating something that has to look good from fifty feet away galloping on a horse! [laughs] You have to make a lot of depth, dimension, and life out of a flat canvas. You might have to paint a brick wall with a window sill at 2:00 in the afternoon, but there's all these additional environmental questions to ask yourself. Is it a mossy wall? Does it have graffiti on it? Did somebody throw up earlier on it and there are weird stains? All that worldbuilding is so important. Along the way I learned how important it was to take light into account when painting. So I started exploring lighting design when I was at Towson University. It was there that I found that my interest was truly in creating these atmospheric environments.
AK: What was the "spark" that got you interested in lighting for the theatre industry? 
RE: Well, theater is a really unique place to be for a visual artist because instead of working with an image you are working with space. It's very different from painting because with a painting you make something and then it's physically in front of you. And, you know, you can put it on a wall and look at it again and again. With theater, you're creating an atmosphere in an environment that is something to be experienced and that becomes a very ephemeral thing. And it can be a very personal thing from person to person. You also have a huge variety of things that you can be working on at any given time. Just looking at the difference between Olney's production of The Thanksgiving Play, which was largely about recreating the look of fluorescent lights in a classroom versus Beauty and the Beast, which has a lot of color and it's more about abstract space making. How do you go from having this really warm town center to being in a dungeon with basically the same set? A lot of that in our production is done with light since the set itself doesn't drastically change from scene to scene. 
AK: When you read a script for the first time, and you're thinking about it from the perspective of a lighting designer, what does that process look like? 
RE: One of the first things I do when getting a script is look at what all the different scene spaces are. How many locations do we have? And then I like to look at what characters are in those spaces. I love tying certain lighting elements to certain characters based on their role in the narrative and their own personal character arcs. That way, if there's a subtle lighting element tied to them, then the audience will subconsciously make that association. A lot of what lighting can impact is really subtle. It's something that the back of your brain notices, but you're not actively thinking: "Oh wow, this lighting element is great." It's a subtle, back-of-the-brain emotional reaction. So, by tying a lighting element to a character, it helps tie an emotion to a character. I also look for any sort of special effects. My college capstone was designing the lights for a new play called Icarus at the Border, a meditation on monstrous appetites. It was a very abstract play. Most of the people who walked out probably thought: "I don't know what I just saw, but it was pretty!" [laughs] It had a lot of Greek mythology settings that were really fun to work on. I always look for places where I can add a little pizzazz. 
AK: Yeah, it's magic. You really can create magic with light. So, Hedwig and the Angry Inch is currently playing at Olney Theatre Center. Throughout the show, Hedwig finds a way to celebrate herself through artistic expression. How do you celebrate your identity through your art?
RE: Celebration largely comes out in my paintings. So, during the pandemic, as I'm sure many people experienced, I was more sedentary and ate more than I typically had. Before the pandemic I was around 105 pounds. It wasn't healthy, I'm definitely not saying it's not an admirable thing to be 105 pounds at 26 years old, but that's how I was. Then, during the pandemic, I filled out more. To be able to come to terms with the fact that my body looked differently, I did a lot of self portraits. And in creating self representative art I've found that it was not just easier to accept what I look like physically, but to go beyond just accepting. I really found something in myself to admire. One of the things that I'm always trying to do when I make art is make it beautiful. When I was making these at the beginning, I would start painting with a lot of angst because I felt bad about myself and I thought: "I have to let it out and just put all that angst on the canvas." But then, throughout the process of painting, my intention would shift from being bitter to being focused on how each part literally looked. I started thinking in terms of: "I want to put a bit of highlight here and I want to get the color right." And then through all of that devotion to making the painting look good I realized that I had made something really beautiful. And since that was a representation of me, then I realized that I was the thing that was beautiful. So, that was a personal journey that I went on over the pandemic through my painting.
AK: That's so beautiful.
RE: Thank you. Yeah, and to tie in lighting a little bit, I've found that.one of the things that I like to look for in a play are the moments of pain. That's where I start. As humans we are always running away from pain and seeking pleasure. So, by finding the moments of pain and building out from there, you can find the scale of like where there is joy in the show. That can be a really self reflective process because what resonates with me as pain in a show might not hurt you. There are moments like in Hedwig and the Angry Inch where I feel absolutely gutted. For instance, during the monologue before "Exquisite Corpse." I was sitting in tech watching that for the first time and I just thought: "This really speaks to me as a queer person in a way that nothing else has." And in talking with other staff, I've heard people describe it as just a nice moment in the show, but I was absolutely gutted by it. So realizing that for me, that's one of the moments that I would have built my own design around was really helpful for me as a young designer. And for someone else it might be different.
AK: This is something I love so much about the theater. I feel like what you're describing is that you're sewing pieces of yourself into the design and it becomes this really beautiful collaboration where it's a piece of a whole, but it's also so much a part of you.
RE: Yes, it's collaborative, but it's also your diary. You're bearing your soul for an audience every night. And for actors, that's a very physical present thing. For designers, I put my design out there and then I'm going to have to walk away from it. But there's a piece of me that lives on in the show, and I think that's really lovely.