Olney Outdoors is back!
Return outdoors with over 25 summer programs to be held on the newly renovated Root Family Stage at Omi's Pavilion, this summer from July 7 - September 3, 2023.
From the opening weekend Applause Series performance of West Side Story to the closing concert featuring the legendary Chita Rivera, this promises to be our biggest summer ever. 
Newly renovated Root Family Stage at Omi's Pavilion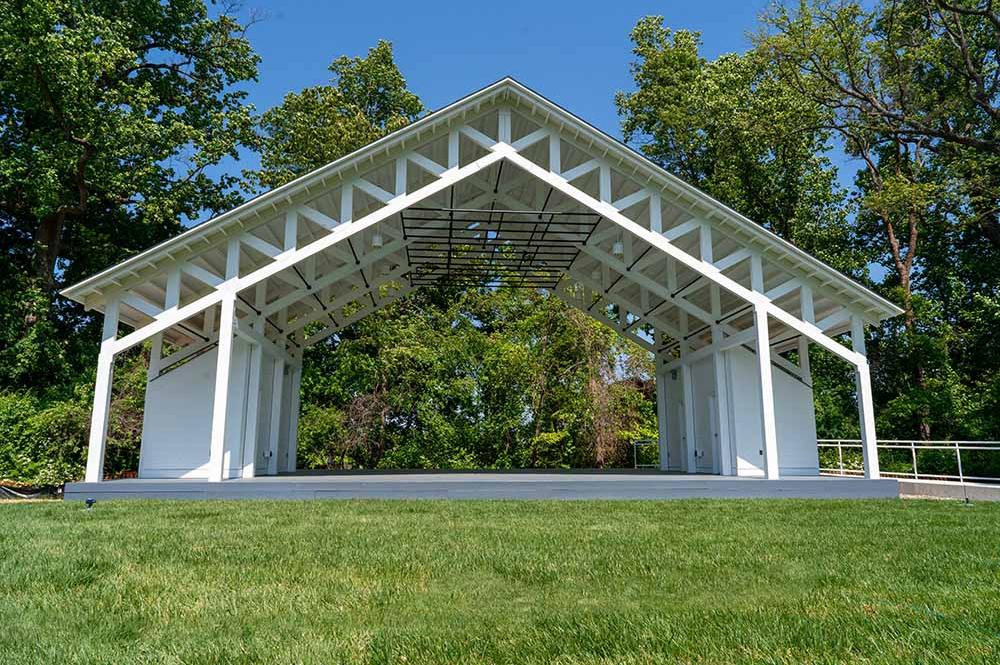 Schedule
All programs begin at 8:00 pm on the Root Family Stage at Omi's Pavilion, except where noted. Programs take place rain or shine but may be moved indoors in the instance of heavy or sustained rain and/or lightning.
Grand Opening Week of the Root Family Stage at Omi's Pavilion
Since last summer, we've completely rebuilt the Root Family Stage at Omi's Pavilion, and to break it in, we're kicking off Olney Outdoors with a week of favorites.

Friday, July 7, 8:00 PM: Concert: Better Off Dead
One of the mid-Atlantic's most popular Grateful Dead tribute bands, local to Maryland, Better Off Dead will get you feeling good and groovy! Featuring Maryland and DC musicians, Better Off Dead has performed in some of the East Coast's most beloved venues and their performance on the new Root Family Stage at Omi's Pavilion at Olney Theatre will be epic!

Saturday & Sunday, July 8 & 9, 7:30 PM: Applause Series: West Side Story
Jets and Sharks on stage with a full band for a concert version of one of America's most beloved musicals.
Welcome to the 60s
One of the best decades for music in American history.

Thursday, July 20, 8:00 PM: 60s Drag Divas
Ersatz Barbras, Dianas, Janises, and more.

Friday, July 21, 8:00 PM: Cabaret: Motown Celebration 
The Temptations, The Supremes, The Four Tops, and that's just the bands that begin with "The"

Saturday, July 22, 8:00 PM: One-Name Cabaret: Sounds of Barbra
Streisand. Not that you needed to ask.

 
Welcome to the 70s
Disco. Country divas. Mega-Musicals.

Thursday, July 27, 8:00 PM: Sounds of (Donna) Summer 
Disco Dancing Event with Live Performances

Friday, July 28, 8:00 PM: Cabaret: 70s Country 
A tribute to Dolly Parton, Willie Nelson, Tammy Wynette, Conway Twitty and more

Saturday, July 29, 8:00 PM: Cabaret: Andrew Lloyd Webber Celebration 
Joseph, Evita, Cats and more!
Just Arts
Saturday, August 5 

More details to come about our annual tribute to the intersection of Arts and Social Justice.

 
Welcome to the 90s
When your phone was just a phone.

Thursday, August 17, 8:00 PM: 90s Drag Divas
Madonna, Whitney, Janet, Cher, Mariah

Friday, August 18, 8:00 PM: Cabaret: Sounds of Boy Bands
A tribute to Backstreet Boys, NSYNC and BoyzIIMen, 98 Degrees

Saturday, August 19, 8:00 PM: Cabaret: Sounds of Girl Groups
Arguably an unmatched era for girl groups like TLC, En Vogue, Destiny's Child, Salt-n-Pepa, and even the Spice Girls. 
CLOSING WEEKEND
Thursday, August 31, 8:00 PM: Rhapsody in Blue and other Gershwin with Company E Dance
A multi-disciplinary feast from the internationally renowned company

Friday, September 1, 8:00 PM: Local Comedy Night
Spend a "stand-up" night with some of the DMV's best comedians

Saturday, September 2: SUMMERFEST
Our annual open house with tons of free events, giveaways, and backstage tours.

Saturday, September 2, 8:00 PM: Sounds of ABBA Tribute
One last taste of summer.

Sunday, September 3, 8:00 PM: Chita Rivera: The Rhythm of My Life
Come celebrate the one and only Chita Rivera! The incomparable Tony Award winner will recreate signature moments from her legendary career from West Side Story, Sweet Charity and Bye Bye Birdie to Chicago, Kiss of the Spider Woman, The Visit, and more. In addition to a tribute to her dear friends John Kander & Fred Ebb, the timeless music of Leonard Bernstein, Charles Strouse & Lee Adams, Jerry Herman and Stephen Sondheim will also be featured, accompanied by her long-time trio and special guests. With credits, honors, and awards too numerous to mention, Ms. Rivera belongs in the first tier of American musical theatre legends. Her performance will be a can't-miss opportunity to say "you were there" as Olney adds her appearance to our storied history, which places her in the company of Helen Hayes, Carol Channing, Olivia de Havilland, and Tallulah Bankhead. 
Seating
For most events seating for Olney Outdoors is purchased by section. Those sections include:
Individual Seats - Olney Theatre-provided chairs in front of the stage
Bleacher Seats - Metal bleachers further back -- what they lack in back-support, make up for in sightlines.
Lawn - Areas for blankets and bring-your-own chair. Sightlines may be obscured.
Seating within sections is general admission. So arrive early to save your seat.
The All-Access pass for the summer is sold out.
If more than one or two events sound exciting, then you should consider purchasing our All-Access Membership. For only $99 you can see everything Olney Theatre produces and presents, including Mainstage performances from July 1 - September 30*.
Available for singles, couples, and households!
The All-Access membership goes on sale June 1.
(*The only event not included in the All-Access Membership is Chita Rivera: The Rhythm of My Life. However, All-Access Members can purchase this event for themselves only at 1/2 price.)