Cedrick Riggs, Jr. is a member of National Players' Tour 70, in which he plays Reverend Hale in The Crucible, Mr. Naidu and others in Around the World in 80 Days, and Duke Orsino in Twelfth Night. Additionally, Cedrick (CJ) teaches a variety of classes, drives our truck, serves on our electrics crew, stage manages 80 Days, and sports Nike apparel as often as he possibly can. A graduate of Belhaven University and a native of Tuscaloosa, Alabama, CJ loves National Players so much he'll be returning next year for Tour 71! Before heading back out on the road in January, I sat down with him to talk about community, theatre, and family.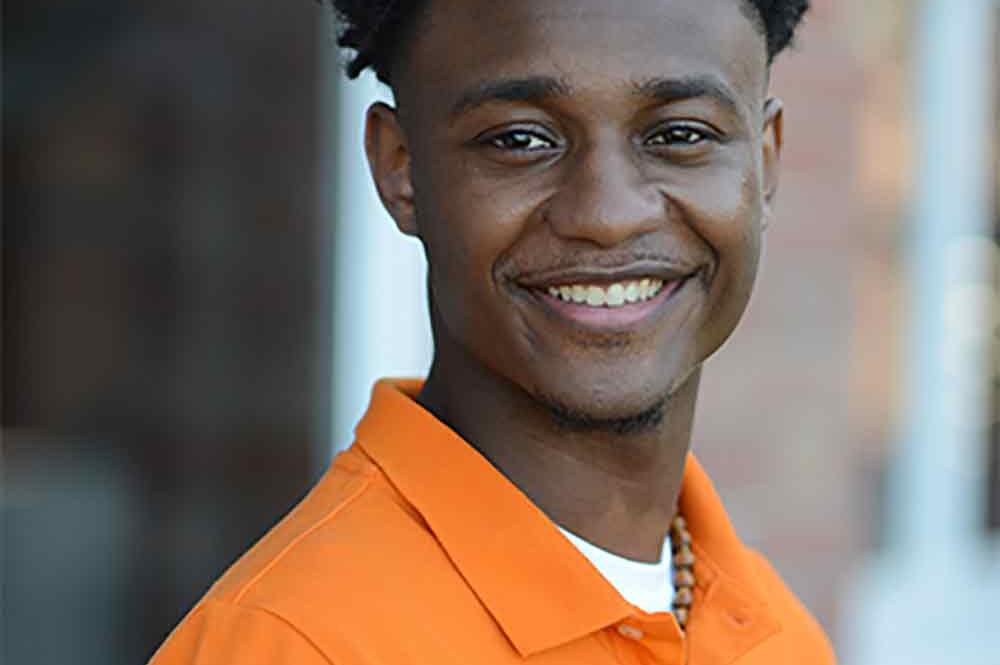 jkj: How did you decide you wanted to be a Player, and how has your understanding of the job evolved?
CJ: Well, to answer your first question, being the religious man that I am, when I was trying to find what I was going to do, I was reviewing what God's plan was for me. Every aspect of this company screamed yes: the education, the training as an actor, the training as a teacher and as a technician. Everything screamed yes. Then not to mention the idea of traveling.
How has this evolved? I now have a better understanding of everything: of all elements of the stage, not just the acting but the lights, the sound. In order for the company to operate, I have to implement myself more holistically and take on different kinds of responsibilities.
jkj: You're from Tuscaloosa. You and I have had some conversations about how you are connected to your community, and how as an artist you are influenced by your ties to your community. Can you talk about that?
CJ: Community means everything to me. Especially children. What we see and live as our values and what we put out there is what helps them grow. The more value we put into them, the more a community will grow.
I love Tuscaloosa a lot and I think it's growing—a lot since the tornado struck in 2011. And I think that The University of Alabama and their sports teams have done a lot for cleaning up and repairing the city. But I think there are more opportunities for the arts to give back. I want to show children that there are other options outside of sports.
jkj: Why do you want to come back? And what are you excited about in thinking about Tour 71?
CJ: I want to learn. I love learning. We are really gifted at Olney with the people that we get to work for and learn from. And I want to keep learning from all of you. The first fall leg, I saw myself mature so much, and I became curious about why I was growing so much. And I realized it's because I was part of a team, and part of a company. As a result, it makes me think about Tuscaloosa and what it means to be a role model in a community. National Players is helping me learn that.
jkj: What's the hardest part of this tour for you?
CJ: All my life I've been a performer and I've dedicated myself to that craft. But then on tour, I get so caught up in what the lighting looks like or the spacing of the stage. I think the hardest part is deciding what percentage of energy I put toward performing, and what percentage goes to being a technician or a stage manager. So learning how to stay grounded, without panicking, if things are not going the way I was expecting them to go.
jkj: What has been your favorite place to go on tour?
CJ: Wallkill correctional facility in Wallkill, New York. There's something about prison that really breaks the spirit of an individual, and it was so wonderful to see that us being there was a light for them. It was so wonderful to know that a majority of them were enrolled in NYU and bettering themselves. It was truly an honor to perform in front of those gentlemen, and I look forward to seeing them in society soon and prospering like I know they will.
jkj: Tell me about your sister.
CJ: Indya Rihanna Riggs. That is my sister. She is 8 years old. She attends Holy Spirit Catholic School. She's on like a ninth grade reading level. She is a genius. She loves to play the guitar. Her favorite color is pink. I like to go home and teach her some of the things I know about stage combat. And we love to watch movies together. Sometimes I get carried away and I want her to be on stage, and so we like to watch movies together and get into characters together. It's so fun being around India. She has a wonderful, beautiful energy about her.
jkj: How do you stay in touch with her?
CJ: She has an iPhone 8. And she FaceTimes me every time she has trouble with math homework. And I'm always there to help her remember that any number times zero equals zero.