SummerFest is the grand finale of our Olney Outdoors programming with FREE events and performances happening all day starting at 1:30 pm. From food trucks to outdoor activities, backstage tours, and so much more,  we are so excited to celebrate coming together around the arts again after over a year and a half.
Music
The Guru and Students of Swaralaya School of Music Present: Stories of Nature & Faith through the Hindu Pantheon
1:30 pm - 2:15 pm, Root Family Stage
Join us for a cultural experience with Hindustani classic music. Guru Shashi Nanda and students from the Swaralaya School of music will take you on a cultural journey through India with Hindustani classic music. With vocalists accompanied by harmonium, reed organ, tanpura, tabla, and drums, we invite you to take part in this wonderful experience.
The Olney Big Band
3:00 pm - 4:00 pm, Mainstage
Proof of Covid vaccination required
The Olney Big Band returns to SummerFest for a spectacular performance filled with jazz, swing, and other dance music from the '30s, '40s, and '50s.
Dance with DJ Ganzi!
4:30 pm - 5:00 pm, Root Family Stage
Grab a drink and celebrate the summer to Korean-American DJ Ganzi from the DMV. DJ Ganzi is a professional DJ/MC who has spun at weddings, clubs, bars, company events, and the Korean Embassy. Dance your troubles away with music from 2NE1, BTS, and more! IG: @djganzi1
One Third Wish
5:00 pm - 6:30 pm, Bank of America Plaza
Rock out to songs by The Beatles and other classics with One Third Wish, an acoustic/electric rock duo featuring Linda Cote (acoustic guitar, percussion, and vocals) and Kimberly Spath (electric guitar and vocals).
70 Years of OTC Musicals
7:00 pm, Root Family Stage
From Pal Joey in 1951 to the upcoming performances of Hedwig & the Angry Inch and Beauty and the Beast, the musicals of Olney Theatre Center have lifted hearts, brought families together and have told tales as old of time. Featuring favorite Olney veterans and some surprise appearances, we celebrate this rich legacy with a beautiful evening under the stars celebrating wonderful music of the past 70 years at OTC. Reservations accepted but not required.
Dance
Culkin School of Irish Dance
2:30pm-3:15pm, Root Family Stage
In Irish, Céad Mile Fáilte means 'one hundred thousand welcomes'! Culkin School will take you into the world of Irish dancing, music and culture over the hour with a mix of performance and audience participation.
MHC's FIL-AM Dance Ensemble
3:30pm-4:15pm, Root Family Stage
Migrant Heritage Commission's Cultural Arm visits Olney Theatre Center with this fabulous dance ensemble, featuring TINIKLING bamboo dance and other fusions. Celebrate Asian American and Pacific Islander heritage by watching this amazing performance and then join in, yourself.
About Olney Theatre Center
Tour the Newly Renovated Theatre Lab
2:30 - 3:30 pm, Mulitz-Gudelsky Theatre Lab
Proof of Covid vaccination required
The first stage of OTC's Capital Campaign was a makeover of the Mulitz-Gudelsky Theatre Lab. Now's your chance to take a walk through the brand new lobby, backstage area, and remodeled black box space which will house our upcoming productions of The Thanksgiving Play, A Christmas Carol, Dance Nation, and the world premiere of The Joy That Carries You.
The Future of OTC
3:30 pm - 4:15 pm, Mulitz-Gudelsky Theatre Lab
Proof of Covid vaccination required
Olney Theatre Center has some exciting things planned for the future. Have a conversation with Artistic Director Jason Loewith, Managing Director Debbie Ellinghaus, and members of the artistic team about how our antiracism and artistic programming efforts are connected.
Back (to the) Stage Documentary Screening
4:30 pm - 5:00 pm, 1938 Original Theatre
Proof of Covid vaccination required
For the ensemble members of the National Players—the country's oldest touring company—COVID-19 postponed their professional debut for more than a year.  Back (to the) Stage follows their journey through the ever-changing pandemic as they prepare to share, finally, their first performance at Olney Theatre Center.  Interspersed with their journey, we'll hear from experts about the arts and mental health, and stories about the pandemic's effect on DMV artists and arts-workers.
Backstage Tours
5:00 pm - 6:30 pm, Mainstage
Proof of Covid vaccination required
Take a guided tour backstage and get a behind-the-scenes look at what we do, led by a member of the Olney Theatre Center staff. Maximum 6 people per group. Tours occur every 10-15min. First come first serve. Because backstage tours are indoors, face masks are required.
Stories with Weldon Brown
5:30 pm - 6:15 pm, Mulitz-Gudelsky Theatre Lab
Proof of Covid vaccination required
If you've purchased tickets with us or seen a performance, you've probably interacted with Weldon Brown, Olney Theatre Center's longest-working employee and absolute treasure. After starting work here helping out with sound for a show to becoming our Director of Sales, Weldon is the current keeper of our OTC history (and knows all the ghost stories). In addition to his day-job, Weldon is also a musician. Come for a delightful evening of storytelling and music with the one, the only, Weldon Brown.
National Players
Pay-What-You-Can
1:30 pm, 7:30 pm, 1938 Original Theatre
Proof of Covid vaccination required
Pay-what-you-can to see Olney Theatre Center's premiere educational and professional touring ensemble National Players perform an award-winning drama by one of America's finest playwrights about an African American family dealing with prejudice, history, and a world where everything changes. The members of the Younger family dream bigger than the small house where they live on the south side of Chicago in the 1950s. When their deceased father's insurance money comes through, those dreams might actually become reality. Walter Lee wants to run his own business and earn financial independence, but his sister Beneatha dreams of attending medical school. Meanwhile, their mother Lena wants to move them all to a bigger home in a white neighborhood. What will finally allow the Youngers to move up in the world, and who will have their dreams deferred? View Content Guidance.
Activities
Artist Marketplace
2:00 pm - 7:00 pm, Bank of America Plaza
When the stages were closed, actors and performers developed new skills and honed existing hobbies into creative business. From hand-crafted cards and other homemade goods, these local artists are gathering at Olney Theatre to sell their wares like greeting cards from actor Michael Russotto to fashionable totes from Non Linear Bags, hand-painted vases and pottery from Hasta the Creative, or even original materials from our props and costumes staff. Come out and support!
Costume Sale
2:00 pm - 7:00 pm, Costume Shop
Looking for some one-of-a-kind fashionable pieces? Then stop by our costume sale right outside of our costume shop.
Kolam Chalk Art
2:00 pm - 4:00 pm, Bank of America Plaza
Join Shanthi Chandrasekar and her students in creating Kolams, a type of traditional Indian chalk art designed to welcome people to your home. Indian women often begin their day and sometimes also end it by drawing Kolams on the ground just outside the front door of their house. These repeating patterns have been passed down generation to generation for centuries. Like Native American sand paintings or Buddhist mandalas, the Kolams are part of the cycle of creation and destruction. This eco-friendly art form, drawn freehand using powdered rice or rock to create beautiful patterns of dots and lines that symbolize all the lessons of the cosmos. Olney Theatre Center invites you to gather and create Kolams to welcome our community to gather for the arts. 
Olney Winery
4:00 pm - 7:00 pm, Bank of America Plaza
Indulge with us and our friends at Olney Winery and take in the beautiful afternoon at Olney Theatre Center. Grab a taste right now or grab a bottle for later.
Beer Tasting
5:00 pm - 5:45 pm, Bank of America Plaza
Nothing like a cold beer on a hot summer day. Try some of our beers from local breweries like Waredaca while you listen to some classic rock.
Holy Crepes Food Truck
2:00 pm - 6:30 pm
Sweet and savory crepes from Holy Crepes for your summer afternoon that are just heavenly. 
Masks and proof of COVID vaccination are required at all indoor events. Those under 12 who are not yet eligible for the COVID vaccine must be masked and accompanied by a vaccinated adult. At this time, we do not accept proof of a recent negative COVID test in lieu of vaccination. For more details visit our Health and Safety page. 
GRAND FINALE!
70 Years of Musicals at OTC- SOLD OUT!
A free concert
7:00 pm
Root Family Stage
Stand-by line begins at 6:00pm
(in the event of rain, this concert will be moved indoors to the Mainstage)
Schedule
All Day (2:00 pm - 7:00 pm)
Costume Sale
Location: Outside behind the Original 1938 Theatre by the graffitied containers
Artist Market
Bank of America Plaza
Holy Crepes Food Truck
2:00 pm - 6:30 pm
1:30 pm
National Players' A Raisin in the Sun
1938 Original Theatre
Proof of Covid vaccination required
Stories of Nature & Faith through the Hindu Pantheon
Root Family Stage
2:00 pm
Kolam Chalk Drawing
Bank of America Plaza
2:30 pm
Culkin School of Irish Dance
Root Family Stage
Tours of the renovated Mulitz-Gudelsky Theatre Lab
Mulitz-Gudelsky Theatre Lab
Proof of Covid vaccination required
3:00 pm
Olney Big Band
Mainstage
Proof of Covid vaccination required
Tours of the renovated Mulitz-Gudelsky Theatre Lab
Mulitz-Gudelsky Theatre Lab
Proof of Covid vaccination required
3:30 pm
MHC Fil-Am Dance Ensemble
Root Family Stage
The Future of OTC
Mulitz-Gudelsky Theatre Lab
Proof of Covid vaccination required
4:00 pm
Wine Tasting
Bank of America Plaza
4:30 pm
Screening: Back (to the) Stage
1938 Original Theatre
Proof of Covid vaccination required
Dance with DJ Ganzi
Root Family Stage
5:00 pm
Backstage Tours
Mainstage Theatre
Proof of Covid vaccination required
Beer Tasting
Bank of America Plaza
One Third Wish
Bank of America Plaza
5:30 pm
Stories with Weldon
Mulitz-Gudelsky Theatre Lab
Proof of Covid vaccination required
6:00 pm
Backstage Tours
Mainstage Theatre
Proof of Covid vaccination required
7:00 pm
70 Years of Musicals at OTC
Root Family Stage
7:30 pm
National Players' A Raisin in the Sun
1938 Original Theatre
Proof of Covid vaccination required
Campus Map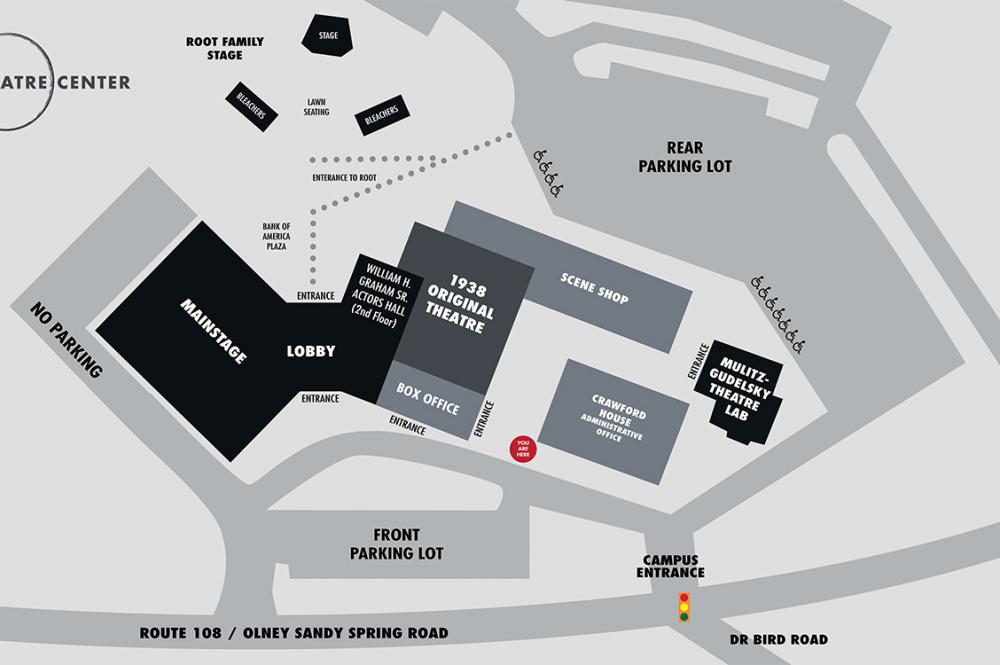 Summerfest 2021
September 4 - September 4 2021