Currently, the National Players are touring their three-show repertory around the country. Jamie Boller, one of the ten talented actors and the troupe's Company Manager, has been blogging while on the road! Read below to see about the Players' experience in South Dakota. 
ShakeSpearfish, South Dakota
Rapid City, SD
Population: 74, 421
This week, I saw a profoundly breathtaking natural work of art, and I now believe the "moon landing" to have taken place just outside of Rapid City, South Dakota. Badlands National Park is extraordinary; you can climb all over the rock formations, just marveling at mother earth. I would consider exploring the Badlands with some of my fellow company members to be among the few spiritual experiences I have had in life. I felt in awe of nature and also thankful for conservation. My younger self would have completely lost her mind in that place (I used to collect rocks, minerals, fossils, crystals, etc., so this place was like the ultimate jackpot). After visiting, I have also learned that prairie dogs are like large, wild guinea pigs that scurry around and emit cute lil' baby barks when they're scared.
After exploring the Badlands, we took a trip to the notorious Wall Drug, a kitschy roadside attraction in Wall, SD. Wall Drug is an old western-style collection of souvenir stores, gemstone shops, other places where you can buy things that may have belonged to a hoarder, and a restaurant where they sell the most delightful homemade donuts ever.
That evening, a few of us went to see Jordan Peele's new horror film, Us. Talk about a MASTERFUL work of art! Whatever you do, please go check this one out. In fact, stop what you're doing right now, and walk backwards (you'll get it once you see it) to your nearest cinema.
Spearfish, SD
Population: 11,609
Arrival in Spearfish, SD. Finally, some CIVILIZATION! It's nice to see more chain restaurants and stores around. When you've been in rural Minnesota or hanging out at a monastery, you start to appreciate neon signs and gas stations a bit more. Spearfish is a really beautiful little town, nestled right in the Northern Black Hills. There is a lot of history here, particularly due to the region's rich Native American culture.
The National Players were in town to work with the Matthews Opera House, a hub for theatre and art in Spearfish. In three days, the ten of us taught a total of 26 workshops and a total of 583 students. (I myself taught 7 workshops to 158 students. Check out this math, from an actor!) We taught at a local elementary school, a middle school, Black Hills State University, a center for adults with disabilities, and a psychiatric residential treatment facility for young people. It was incredible getting to know this community. Though they came from many different walks of life, what all of our students had in common was an eagerness to learn.
Teaching at the treatment facility for young people was unlike any previous experience. I was completely ignorant of these institutions and the ways in which they impact lives forever. Emily and I taught an Improv workshop to about 15 girls from ages 11-19. We gave them a window into our world, and they gave us a window into theirs in return. This is an experience I will not soon forget. I am certain this will not be the last time I work with an institution like this, because I am now determined to do so in the future. These are strange, seemingly prison-like places where a lot of American kids grow up. There are some good people doing great work, but there are clearly some big problems too. I'm hoping to learn more, and I'm still reflecting on my very brief time spent there.
As part of a local project titled "The Big Read," we were invited to perform some guerrilla Shakespeare scenes in an art gallery attached to the opera house. We performed on one of the neatest sets I have ever worked on. "The Big Read" included several art projects inspired by the novel Station Eleven, written by Emily St. John Mandel. The novel follows a troupe of travelling Shakespeare actors in a future where a massive plague has wiped out most of civilization. The actors travel in a horse drawn pickup truck. On the truck's side reads, "The Traveling Symphony: Because Survival is Insufficient." The local high school's welding department created a replica of this truck and built it into a stage! It felt very special to be part of this event. I read the novel a few years ago at the recommendation of my sister and her boyfriend and was so stoked to be part of this project. I think that sums up why a lot of us join something like the National Players or make art at all, really—because survival is insufficient.
Last night, we loaded in and performed Twelfth Night on the Matthews Opera House stage. The opera house was originally built in 1906. It has certainly had its ups and downs over the years, but current management is really bringing life to this beautiful old theatre. It's clear that this community loves the opera house, loves Shakespeare, and loves the National Players. Mostly volunteers (and two full-time staff members) keep this theatre going. We had time to stop by and peek in at a community theatre company's rehearsal of a production of The Curious Savage. Though sometimes verging on Waiting for Guffman-style acting, this was a great rehearsal and a perfect reminder of why community theatre is so important. My roots are in community theatre, and it was encouraging to see that art is happening everywhere, even in the middle of the middle of nowhere.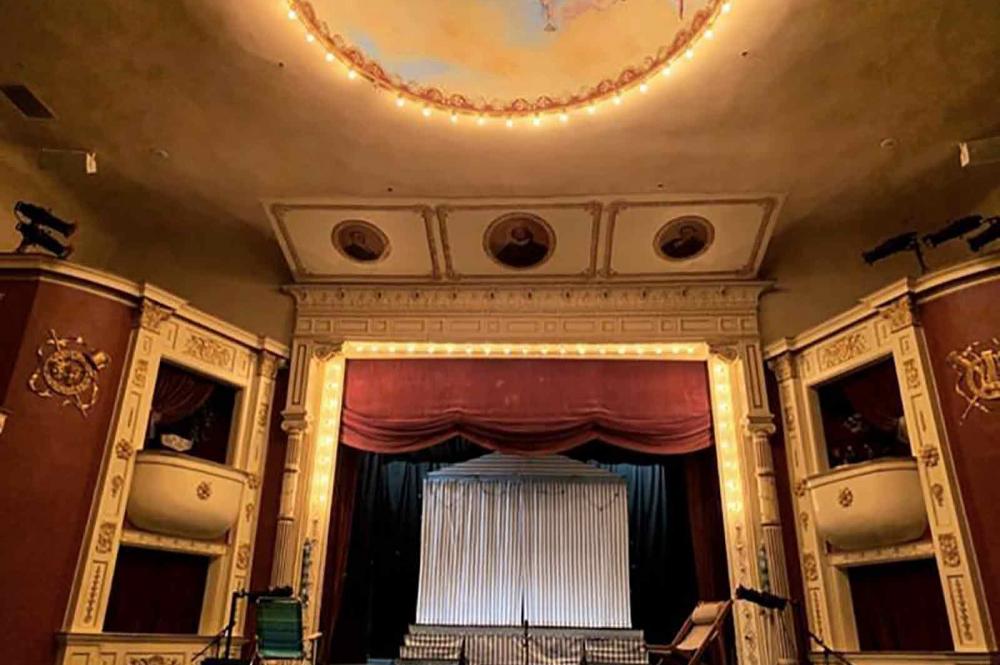 Next, we'll be headed to Colorado! I've never been, and I cannot wait to put on my cat fanny pack so I can be the best tourist I can be.
Your Dear Lady Disdain,
You can follow along with the National Players on their journey by reading Jamie's blog, here.