DIRECTOR OF COMMUNITY ENGAGEMENT
Full Time Exempt / Senior Staff
REPORTS TO:  Artistic Director
Olney Theatre Center seeks a spirited, creative and activist-minded individual to serve as its first full-time Director of Community Engagement (DCE). The DCE will be responsible for envisioning, launching and implementing a strategic array of activities that cultivate and share the creativity of communities around OTC, connect them to the makers and artistry on our campus, and position OTC as a leader of civic conversation at multiple levels. The DCE will work interdepartmentally on both new and established initiatives to maximize the impact of OTC's programs for every community around us, demonstrating our belief that OTC should matter to everyone in our community.
The Director of Community Engagement will:
Learn about the diverse range of communities around the theater, with a particular focus on those communities that traditionally or historically have limited engagement with us.
Engage with those communities to learn how OTC can be a more meaningful institution for them, what cultural resources they need and what cultural programs they want, and what partnerships we can discover together to unleash our creativity and theirs.
Create deep, engaged, non-transactional relationships with and within those communities to benefit them and ensure OTC's programs are fully inclusive.
SKILLS AND VALUES REQUIRED:
Investment in OTC's Mission, Vision and Values, and its Statement on Social Justice and Becoming Anti-Racist.
Passionate belief in the benefits of connecting communities to the arts, and the arts to their communities.
Belief in the value of non-transactional, organic relationship-building.
Strong cross-cultural competency a must.
Ability to dream up innovative ideas, big and small, and translate them into actionable plans.
Strategic thinking and planning within a larger organizational framework.
Outstanding interpersonal, organizational and communication skills.
Great collaborative skills to enable cross-departmental work.
Ability to self-direct and manage multiple projects and prioirities.
Courageous in their convictions, respectful in their arguments, gracious with disagreements.
Excellent listening skills.
PRIMARY DUTIES:
Collaborate with other departments, including the Advancement and Marketing teams, to promote the story of and need for impactful community engagement.
Create and implement new Community Engagement strategies that make our theater matter to more people, from every background, in our community. These may include:

Artistic connections to communities in our region with barriers to access
Partnerships with other nonprofits in appropriate areas of advocacy, and civic engagement
Civic forums inspired by and in support of the themes in the work we produce
Community-created arts programs and performances
Quarterly and/or targeted open house events
Off-site artistic visits and events to connect OTC and promote its programs
Collaboration with members of the artistic staff, especially with those who lead the National Players Mobile Unit, SummerFest and the Just Arts program

Continuation, alteration or elimination of current programs.

Community Partnership program that leverages individual show themes to connect with appropriate groups, associations and organizations.
Non-profit Partner program to provide fundraising or promotional opportunities for local nonprofits, at the same time as adding to OTC's audience development efforts.
Our Play and My Monologue: building this program outside schools (which is run by the Education Director)

Engage with the community around Olney Theatre Center, attending events, visiting civic facilities, serving on local Boards as appropriate, etc. 
 
ADDITIONAL DUTIES
Work closely with the Managing Director to ensure institution-wide engagement with position goals and priorities.
Serve on the Senior Staff of the theater.
Serve on the Artistic Staff, attending Artistic Staff meetings on at least a biweekly basis, and all meetings about season planning and other topics particularly relevant to Community Engagement. 
Serve on the theater's internal and external EDIA committees.
Attend marketing and advancement staff meetings on a monthly basis. 
Provide guidance to all departments as relevant to help the institution achieve its Community Engagement goals.
GEOGRAPHIC RANGE OF ACTIVITIES
While community engagement activities can happen in any location, OTC is focused on developing relationships within the geographic range below, which includes two of the ten most ethnically-diverse cities in the nation (Gaithersburg and Rockville).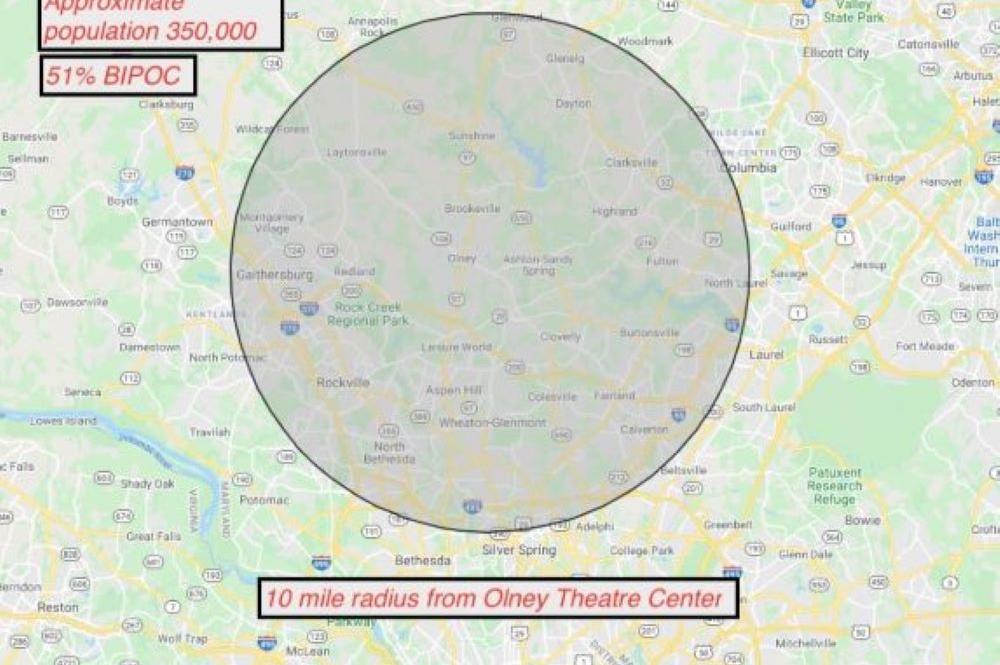 DESIRED QUALIFICATIONS        
Experience:  Community organizing, activism, or engagement experience required; experience in arts education a plus; nonprofit institutional experience a plus. Five + years institutional experience or equivalent suggested.
Physical Requirements: Sit for extended periods of time (up to four hours), operate a computer keyboard for extended periods of time (up to four hours), ability to speak on the telephone for extended periods, ability to ambulate comfortably and with frequency.
Time Requirements: Full-time position (Monday – Friday), with occasional evening and weekend work requirements. Flextime and virtual work options available.
Travel:  Local travel will be required and will be reimbursed; occasional out-of-town travel.
Transportation:  Due to Olney Theatre Center's location, access to a motor vehicle is required.
Other:  Experience in leading teams and collaborating across departments strongly encouraged; exceptional interpersonal skills required; excellent public speaking, presentation and group leadership skills strongly encouraged; strong commitment to equity, diversity and inclusion required.
 
COVID PLANS
OTC hopes to begin in-person performances on its outdoor stage beginning July 1, 2021, and on its indoor stages in fall 2021. Partial telework will remain an option for employees who can perform their duties remotely going forward. 
SALARY AND START DATE: 
The anticipated start date is May 1, 2021, but OTC will continue searching until the right candidate is found. This position will not be filled unless at least 33% of qualified finalist candidates are people of color. Salary is $55,000 – 65,000 per annum, depending on experience. Olney Theatre Center offers a full benefits package, including modest 403(b) match. Olney Theatre Center is an Equal Opportunity Employer and strongly encourages candidates from diverse backgrounds and experiences to apply.
Please send resume and cover letter to jobs@olneytheatre.org. No calls, please. Depending on volume of responses we may only be able to respond to candidates we wish to interview.
Posted February 1, 2021